George Mason Baseball Clinics and Camps
Our Director of Player Development, Coach Wrighte, and I will be running infield clinics at our field in April for ages 7-13 and 14-18. We will be taking the attendees through what we do with our college infielders. Coach Wrighte has had a great track record of developing infielders in Northern Virginia and we are excited to work together for these clinics with both having infield coaching backgrounds. Here is the link to register: https://shawncampbaseball.totalcamps.com/shop/product/184462
Below is more information along with our flyer:
April Infield Clinic
Will be held on Wednesdays 4/12, 4/19 and 4/26 from 5:00PM - 6:00PM for Ages 7 - 13 and 6:00PM - 7:00PM for Ages 14-18 at George Mason University Spuhler Field.
Instructors:
Instruction will be led by George Mason University Assistant Coach, Matt Marsh and Director of Player Development, Kyle Wrighte.
Coach Marsh works with our GMU Infielders alongside our director of infield development. He has worked with many great infielders at the high school and Division I college level including Jeremy Pena when he was at Maine and two other professional infielders as well as the leading playmaker in the conference when he was at UMBC.
After a great career as a high level defensive shortstop at William and Mary, Coach Wrighte has had a strong record of developing infielders in the Northern Virginia area. Coach Wrighte started the Infield Academy where he has worked with a ton of youth and high school infielders in addition to his work with our college infielders at George Mason.
This program will focus on being on time in pre-pitch, increasing range, creating hops, throwing accurately from different angles and many other nuances of playing infield at a high level.
Dates and Times:
Wednesday 4/12, 4/19 and 4/26
5:00PM - 6:00PM for Ages 7 - 13 and 6:00PM - 7:00PM for Ages 14-18
Location:
George Mason University Spuhler Field
4501 University Dr Fairfax, VA
Ages:
These clinics are open to all entrants ages 7 - 18U.
Price: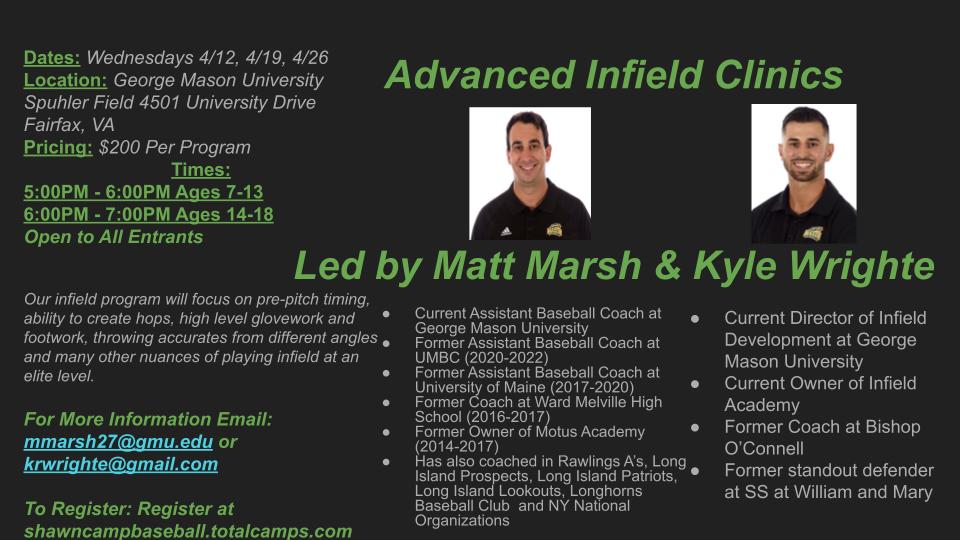 Matt
Marsh
Assistant Baseball Coach
George Mason University
Little League Night - Tuesday, April 18!
W.T. Woodson Cavaliers host the Fairfax Lions!
Join Woodson for a fun night geared toward youth players!
All Little League players wearing their Little League team jersey will get in free!
Little League players will be recognized on the field before the game. Players should line up behind the 1st base dugout at 6:15 pm. (Pregame warmups start at 5pm)
9525 Main St.
Fairfax, VA 22031
(Baseball field entrance on Whitacre Road)
Mark Your Calendar for Spring Season events
Plan ahead for a fun 2023 season!
Stay tuned for more details on these events and future planned events.
ANSLL Apparel Store – now open until March 23
There's a little more time to place your ANSLL Apparel orders. Visit our online store by March 23.
Field Maintenance Days
Saturday, March 25
Saturday, April 1
Your team manager may already have contacted you about the upcoming Field Maintenance Days. The more helpful hands, the merrier! See you there!
Opening Day, Saturday, April 15
Festivities begin at 10 a.m. at Pine Ridge. The full schedule and more details will be forthcoming.
Do plan to arrive early for parking and for each player to line up with their team.
We're looking for Silent Auction items. If you can help, please contact our silent auction coordinator (details sent in an earlier email) or sponsors@ansll.org.
MOD Pizza fundraiser
We have a tasty fundraiser in the works for Sunday, April 30, 2023, from store open to close. Full details will be provided in mid-April.
Youth Baseball/Softball Day at Nats Park
Sunday, May 21, 1:35 p.m. Nationals v. Detroit Tigers
Purchase your discount tickets here. If interested in coordinating a group or team outing, your team parent or team manager can help.
--
Like and Follow ANSLL on Facebook.
ANNANDALE NORTH SPRINGFIELD LL
GEAR UP FOR THE SPRING SEASON AT DICK'S SPORTING GOODS
Take 20% off your Entire Purchase at the Springfield Town Center store March 10th – 13th
(CLICK HERE FOR 20% OFF IN-STORE COUPON)
Please note: the Bailey's Crossroads store will be closed for renovations.
The discount weekend has been moved to the Springfield Town Center location.

And if you need something before or after 3/10–3/13, CLICK HERE for other coupons good in-store throughout the year. (*20% off and season-long coupons cannot be combined*)
ANSLL Equipment List*
Baseball pants, belt, and socks (colors to be communicated by team managers)
Ball glove
Batting helmet
Bat
Protective cup (boys only)
Rubber-soled cleats (no metal spikes for Major Division and below)
Batting gloves (if desired)
Backpack or equipment bag (if desired)
*Contact your team manager for questions on sizes, requirements, or other considerations.
US9 Baseball-Softball Spring & Summer Camps
Spring Break and Summer baseball camps with US9 Baseball - Softball
• US9 Baseball offers instructional baseball & softball camps designed to teach both fundamentals and advanced skills in a fun atmosphere. In addition to daily scrimmage games and trivia contests, all campers receive instruction on pitching, hitting, base running, fielding, game situations, rules and sportsmanship. Groups and teams will be created by age and/or prior experience with a goal to build camper confidence. Once registered, download camp forms from the website.
Full-Day Camps for Ages 7-13 & Beginners Half-Day Camps for ages 5-6
For more information and to register go to our US9 website or Fairfax County Park Takes site:
https://www.us9baseball.com/summer-camps
https://www.fairfaxcounty.gov/parks/camps
US9 Camp Locations in Fairfax Co.
Audrey Moore Rec/Wakefield Park Ball Fields (Annandale)
**(SPRING BREAK) April 3-7, 2023 Mon-Fri 9 AM - 4 PM, (Includes Swimming)
June 20-23, 2023(4-days), Tue-Fri 9 AM - 2 PM
June 26-30, 2023 Mon-Fri 9 AM - 2 PM
July 10-14, 2023 Mon-Fri 9 AM - 2 PM
July 31-August 4, 2023 Mon-Fri 9 AM - 2 PM
August 7-11, 2023 Mon-Fri 9 AM - 2 PM
Patriot Park North in Fairfax (all-synthetic turf complex)
June 20-23, 2023(4-days), Tue-Fri 9 AM - 2 PM
July 10-13, 2023 Mon-Fri, 9 AM - 2 PM
July 31-Aug. 4, 2023 Mon-Fri 9 AM - 2 PM
Spring Hill Rec Center in McLean
June 26-30, 2023 Mon-Fri, 9 AM - 4 PM
July 17-21, 2023 Mon-Fri, 9 AM - 4 PM
July 24-28, 2023 Mon-Fri, 9 AM - 4 PM
July 31-August 4, 2023 Mon-Fri, 9 AM - 4 PM
August 14-18, 2023 Mon-Fri, 9 AM - 4 PM
​Sully Highland Community Center and Athletic Complex in Herndon, VA
July 17-21, 2023 Mon-Fri 9 AM - 2 PM